The beauty of Japan we would have not noticed without knowing Paris.
The beauty of Japan that we could have missed if Paris is not discovered.



Established the concept store "Angel" in Nagoya in 1995.
It is the space with the theme of total beauty blended mode, cosmetics of Japan and French culture together.Pioneered a natural herb soap " Savonnière" produced by a handmade craftsman in Provence in 2007.Developed the unique original natural cosmetics of our company brand using clean mountain water.Started to commercialize "Fujiskin" brand with the image of Japanese icon, the Mt. Fuji in 2013.
Started introductions of wonderful Japanese culture to the French through media since 2018.Blessed by years of travelling back and forth between Japan and France, we have come to appreciate the beauty of Japan.There is much more exquisiteness that we can be proud of such as "Kimono", "Kabuki", "Noh play", various climate, rich history and deep tradition.
The harmony of inner beauty comes through culture, beauty, inspiration and outer beauty through mode and cosmetics. The shining appearance comes from the harmony is the company's concept of "Total beauty".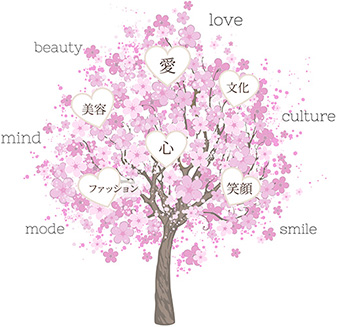 Concept store・Speciality store Angel Producing original fashion, bag and bijou in collaboration with French and Italian designers.Store is located in Nagoya Aichi.

Cosmetics Japan "Fujiskin"
Basic cosmetics with the theme of "simple is the best".
Easy steps with only 2 bottles will lead you to a natural beautiful skin.

Cosmetics France "Savonnière"
Received seal of approval of "Nature et progrès",the highest organic certification in France.
Introducing the natural cosmetics Based on natural herbs produced by an agricultural scientist who cured from atopic dermatitis. (made in France)